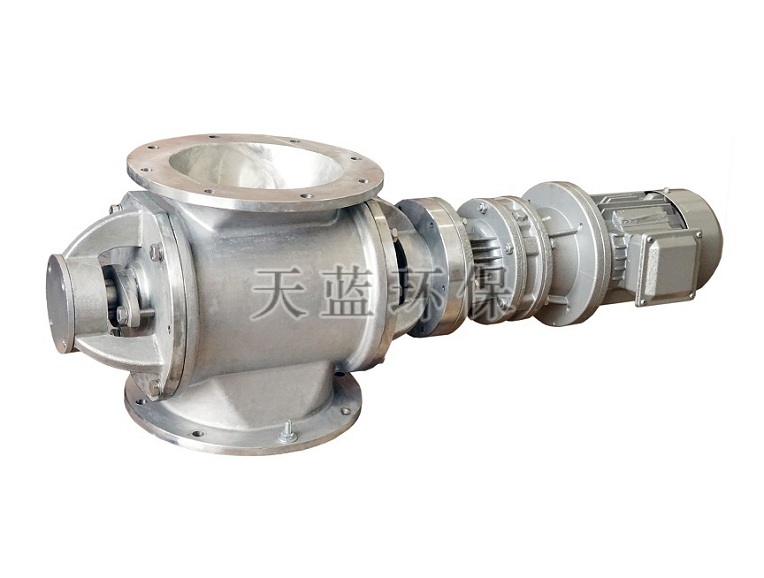 Impeller feeder application:
Impeller feeder (also known as rotary valve and star feeder), which adopts the advantages of advanced discharge, is a mechanized and automatic control system of uniform continuous batching, conveying, discharge equipment. Impeller feeder has the characteristics of small volume, light weight, strong production capacity, convenient maintenance and operation. Impeller feeder is widely used in powder engineering, grain processing, port and wharf, petrochemical, chemical fiber, chemical industry, electric power, medicine, food, building materials, mining and other industries and fields of pneumatic conveying engineering and bulk material processing system. It is characterized by simplicity, environmental protection and long-distance automatic control.
Working principle and brief description of impeller feeder:
Impeller feeder is commonly known as star feeder, fan off, air lock, rotary feeder, rotary valve, etc. it is composed of rotor with several blades, shell, seal, motor, reducer, etc. When the rotor rotates in the cylindrical shell, the material falling from the upper hopper by its own weight is filled in the space between the blades and discharged with the rotation of the rotor to the lower part, so as to realize the uniform and continuous conveying of materials.
Impeller feeder is the key equipment in pneumatic conveying system. For positive pressure conveying system or negative pressure conveying system, impeller feeder can supply material to conveying pipe evenly and continuously. Impeller feeder is very suitable for positive and negative pressure pneumatic conveying system, pulse dust removal equipment and precision feeding. The impeller feeder has the characteristics of compact structure, beautiful appearance, good air locking performance, stable operation, uniform blanking, light and energy saving, which can play the role of feeding and locking the air flow. Due to the low speed rotation of the rotor and the small gap between the rotor and the inner cavity of the shell, it can effectively prevent the reverse flow of the air flow, so as to ensure the stability of the air pressure in the system and the normal discharge of materials.
According to the characteristics of materials, uses and conditions of use, impeller feeder has a variety of structural types, its selection should be based on the characteristics of the transported materials, such as particle size, adhesion, temperature, humidity and so on.
Schematic diagram of impeller feeder
Performance parameters of impeller feeder:
Main specification: DN 100 ~ 600 (4 "~ 24")
Main materials: SS304, SS316L, WCB
Main models: pneumatic conveying, gravity discharging and variable discharging
Working pressure: atmospheric pressure / low pressure, medium pressure and high pressure
ATM<0.1Mpa 0.15~0.35Mpa HP>0.35Mpa
Working temperature: - 20 ℃ ~ 200 ℃ / ≤ 450 ℃ ≤ 720 ℃
Flange connection standard: ANSI B 16.5, 150Lb, GB, Hg, SH or designed by client
Electrical explosion proof grade: specified by the user
Applicable medium: solid materials (powder, granular materials, powder particle mixture, flake, etc.)
Ruian Tianlan environmental protection equipment Co., Ltd. is mainly engaged in a series of products such as discharger, ash discharge valve, star type ash discharge valve and Ruian discharger, "Tianlan environmental protection and global purification", customer service hotline: 0577-65007068